PRIZE. Professor Jan Lötvall of the University of Gothenburg is receiving, as the first Swede to do so, the Lipid Science Prize — a personal award of half a million Swedish kronor from the Kåre Larsson and Gunnar Sandberg Research Foundation. Lötvall's group has succeeded in showing that small bubble-like structures called exosomes, secreted by the body's cells, contain RNA molecules. This discovery may culminate in entirely new treatments both for cancer, inflammatory disorders and for bacterial infections.
"It's a wonderful award, highlighting a research field that may come to yield completely new therapeutic methods for a range of diseases. I'm profoundly grateful and at the same time feel great humility," says Jan Lötvall, professor of clinical allergology at the Institute of Medicine.
The Lipid Science Prize is awarded annually by the Kåre Larsson and Gunnar Sandberg Research Foundation. Professor Lötvall is being awarded the Prize for 2023 for discovering, together with his team, that extracellular vesicles known as exosomes serve as a mechanism for genetic exchange between cells. This groundbreaking work, published in Nature Cell Biology in 2007, has aroused vast interest over multiple research fields.
Next-generation drugs
Exosomes (also known as extracellular vesicles) are nanosized structures that look like small bubbles. Formed inside the cell by cell membranes, they bud out and are released from the cells. These tiny bubble-like structures have been known to exist since the 1970s, but their potential became clear only in the 2000s, when Lötvall's research group showed how these vesicles are a means for cells to communicate with one another via the shuttling of RNA between cells.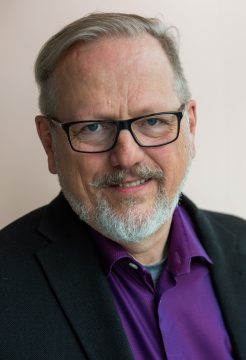 "Cells use extracellular vesicles to send genetic material, in the form of RNA, into other cells. I believe the discovery can support the development of the next generation of biological drugs, and may gain just as much clinical importance as monoclonal antibodies already have," Lötvall says.
In its citation, the Kåre Larsson and Gunnar Sandberg Research Foundation also emphasizes the significance of Jan Lötvall's commitment to support progress in international research on extracellular vesicles. He helped found the International Society for Extracellular Vesicles, which he chaired for many years. He still edits the Society's Journal of Extracellular Vesicles, which has very high impact in the general biomedical scientific literature.
Cancer and sepsis
Since the discovery, Jan Lötvall's group and other researchers have shown that analyses of extracellular vesicles can serve as biomarkers for several different diseases. Worldwide, intensive research is under way to develop extracellular vesicles also into an entirely new strategy to treat various diseases. Much of this research is directed at new cancer therapies, but also at treatments for blood poisoning (sepsis) and other bacterial infections.
Several studies, both in animals and in cell cultures, have demonstrated that the treatment is safe. However, results from major, well-designed studies are needed to show that the positive effects are clinically relevant. As recently as in fall 2022, Jan Lötvall's research group published results demonstrating that extracellular vesicles from mesenchymal stem cells can inhibit inflammation in mice by around 75 percent, which is a distinct improvement compared with previously published studies.
"In our research, we load extracellular vesicles with material that enhances their anti-inflammatory effect. We also modify the surface of the vesicles, with a goal to target specific cells in the body where we want to achieve the therapeutic effect," Lötvall says.
KÅRE LARSSON AND GUNNAR SANDBERG RESEARCH FOUNDATION
The Kåre Larsson and Gunnar Sandberg Research Foundation was formed in 1997 by Kåre Larsson (1937–2018), professor of food technology at Lund University and world-leading expert on lipid structure, and Gunnar Sandberg (1923–2007), who received an honorary doctorate from Lund University and, as an entrepreneur, founded Electro-Sandberg and Sandberg Development.
The Foundation's website: http://www.clrf.se.
The scientific publications mentioned are:
BY: ELIN LINDSTRÖM