ACADEMIC CEREMONIES. On Wednesday, January 25, the University invited a 68 staff members to a ceremony to receive their Zealous and Devoted Service awards. "I am proud of this distinction," says Eva Sjögren Nilsson, acknowledging that she had been talking a lot about the upcoming ceremony.
She describes the event as both solemn and joyful. One by one, each devoted employee approached to the Vice-Chancellor, who presented them with the gift they had chosen for themselves.
"The Vice-Chancellor looked into my eyes and said, 'Thank you for doing so much good for the University of Gothenburg' and 'Good luck.' We each could bring a family member to the ceremony, and my husband accompanied me," says Sjögren Nilsson, who is now in her last year at the University as a doctoral studies coordinator in the Institute of Medicine.
The ceremony ended with a group photo by the University's photographer, Johan Wingborg, and a festive buffet with wine.
A long journey with the University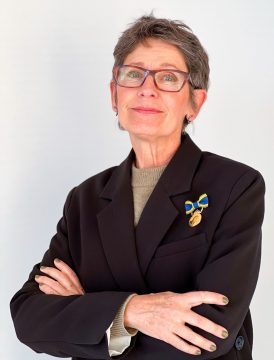 Eva Sjögren Nilsson has served at the University of Gothenburg for a little more than 30 years, first at the Institute of Medical Microbiology and Immunology, where she was employed as a temporary departmental secretary in 1992 in Professor Ann-Mari Svennerholm's team. Later, she assumed a new position as an administrator with Professor Lars Åke Hanson (Nenne) at the Department of Clinical Immunology, a job she describes as very enjoyable.
"Nenne was an amazing person. He was extremely demanding but very committed and a successful professor of immunology. He collaborated with many researchers from all over the world and was particularly passionate about the benefits of breastfeeding, which saved many children from becoming ill and dying from contaminated water.
As an administrator in a department with a feverish pace of research, I handled much of the administration involving finances, personnel, and doctoral studies, a job I found very stimulating and enriching."
Major responsibility for doctoral studies
When Lars Å. Hanson retired, Sjögren Nilsson turned to Professor Andrej Tarkowski at the Department of Rheumatology and Inflammation Research, where she recieved a new position. The department grew enormously during her years there, a success she attributes to Andrej Tarkowski and Hans Carlsten, who headed the work at the Department of Rheumatology. When the Institute of Medicine was established in 2006, Professor Kristina Eriksson (who was also recognized for Zealous and Devoted Service this year) assumed the role of director of doctoral studies, and Sjögren Nilsson provided administrative support for her. Subsequently, Sjögren Nilsson also became assistant director of doctoral studies for the department during Olle Isaksson's tenure as head of department.
"At the same time, I had cut back a bit to devote myself to the quilting and fabric shop I ran with a friend, but it was still too much work. In 2009 we sold the business, and I was able to devote 100 percent of my work to being the administrative coordinator for Head of Department Hans Carlsten and assistant director of studies for the doctoral program.
I am grateful to all my lovely colleagues and my great managers for giving me the opportunity to grow and develop within the Institute of Medicine, where I chose to stay for so long!"
Those who want to see a sample of Eva's handcraft can find a work on loan hanging from the wall of the lunchroom in Anatomen: a large red and yellow patchwork quilt. Starting this autumn, she will have much more time for quilting because she plans to retire in September at the age of 63.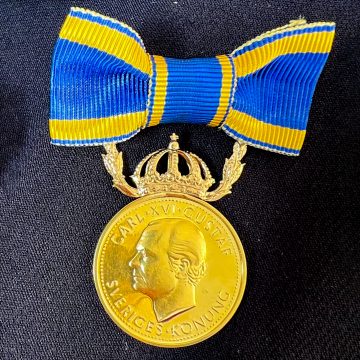 Zealous and Devoted Service to the State
The award for Zealous and Devoted Service to the State is presented each year to employees at the University of Gothenburg who have worked for 30 years as a government employee or who have ended their employment after more than 25 years of service. They are presented with the award "For Zealous and Devoted Service to the State" (NoR)
A total of 68 people were invited to the Zealous and Devoted Service Ceremony, two of whom declined the gift. Thirteen of the recognized employees work at Sahlgrenska Academy:
Ann-Charlotte Bengtsson, Institute of Neuroscience and Physiology
Göran Bergström, Institute of Medicine
Kristina Eriksson, Department of Rheumatology and Inflammation Research
Bente Gruner Sveälv, Department of Molecular and Clinical Medicine
Suzana Gudmundsson, Institute of Clinical Sciences
Gunnel Hellgren, Institute of Biomedicine
Jan Lötvall, Department of Internal Medicine and Clinical Nutrition
Marie Nilsson, Department of Clinical Neuroscience
Margareta Rorsman, Sahlgrenska Academy Office
Karin Schön, Institute of Biomedicine
Eva Sjögren Nilsson, Institute of Medicine
Rosita Stomberg, Department of Psychiatry and Neurochemistry
Margda Waern, Department of Psychiatry and Neurochemistry
BY: ELIN LINDSTRÖM