THE VICE-CHANCELLOR PROCESS. "It's overwhelming, but at the same time exciting and a great honour. I am also very humbled by this difficult assignment."
This is how the University of Gothenburg's next Vice-Chancellor Malin Broberg describes her feelings as the long recruitment process is now coming to an end.

The journey to the Vice-Chancellor position began one day in September last year. Malin Broberg, Dean at the Faculty of Social Sciences, learned then that she was among the close to 70 nominations for a new Vice-Chancellor that staff and students had submitted.
After various tests, extensive interviews, the consultative assembly and now most recently a decision by the University Board, only a formal Government decision during spring remains. On 1 July, Malin Broberg will then take office as the 20th Vice-Chancellor of the university.
"I find leadership very exciting, I have always been drawn to that type of assignments and I've also often had confirmation that it works."
Supervisor, director of studies for research education, board member and Dean. For each level where Malin Broberg has donned the academic leadership shirt, she has gained new perspectives. The assignment as Dean has, for example, given her a completely different picture and understanding of how the organisation at the University of Gothenburg works, of all the parts and how they fit together.
Leading the university forward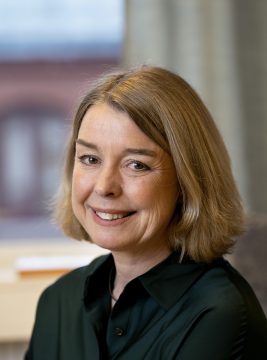 Malin Broberg looks forward to continuing to develop and to being able to contribute to leading the university forward as Vice-Chancellor. Among other things, she wants to continue to build on the work of unifying the university even more.
"We can take another step there and become an even stronger unified university where we at the same time highlight our cutting-edge areas and individual strong brands, such as Sahlgrenska Academy and the School of Business, Economics and Law. You can both keep your idiosyncrasies at the faculties and still feel that the University of Gothenburg is a large and well-knit network around everything."
Sustainability issues is another important area for Malin Broberg, as is work environment.
"It's the staff and students that is our greatest resource! A really good work environment that makes us attractive both as a university and an employer is a big focus for me. Additionally, the current Vice-Chancellor has worked a lot with student influence and student participation, and that is also an area close to my heart."
Much preparation
Even though more than five months remain until Malin Broberg officially starts her new job as Vice-Chancellor, there is much to do already. The appointment creates a vacancy in the Faculty Management that needs to be dealt with at short notice and a replacement in the Dean position needs time for an introduction. When it's clear who will be the Pro-Vice-Chancellor, the work of forming the Vice-Chancellor's group and planning ahead together with the Vice-Chancellor's office can begin in earnest.
"And of course there will be some form of handover of the duties included in the Vice-Chancellor assignment. Finally, it's about mentally landing in this, preparing myself for it being an official assignment in a completely different way than before. It is a huge responsibility, both for a public authority and for the people in the public authority, both staff and students."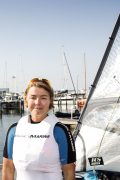 You have competed in dinghy sailing since you were eight years old and participated in many world championships and national championships. What do you bring from that into the position of Vice-Chancellor?
"My determination, and investing in a few areas at a time as well as constant development and attention to detail. But also my calm and security around the performance culture. Daring to try and realising that sometimes it doesn't work, sometimes it goes wrong, but that's ok, because it's a step along the road to continuous development."
Further reading
BY: THOMAS MELIN
PHOTO: JOHAN WINGBORG
The text was first published on the Staff Portal.