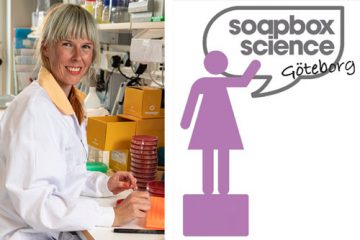 COLLABORATION. After last year's successful Soapbox Science event during the International Science Festival Gothenburg, another is now coming up in April. Women and non-binary researchers in STEMM here in the city can sign up to give their presentations.
Soapbox Science is a British notion inspired by Speakers' Corner in London. Four at a time for one hour each, standing on wooden "soapboxes", the researchers present their work. Every prepared, 15-minute presentation is given several times during the hour allotted, with the aid of illustrative props. The event also engages assistants who support the researchers and rope in the audiences that gather around the wooden boxes in the Nordstan shopping mall.
Register your interest
This year's Soapbox Science in Gothenburg will take place on Thursday April 20th, from 3:30 to 6:30 pm, in the Nordstan mall. Twelve researchers will be selected, taking into account their composition in terms of both subject areas and departments.
Register your interest by Wednesday 1 February at the latest.
Props attract visitors
Astrid von Mentzer is also responsible for organizing this year's Soapbox Science event in Gothenburg. She says she enjoyed witnessing all the participants' mutual encouragement last year.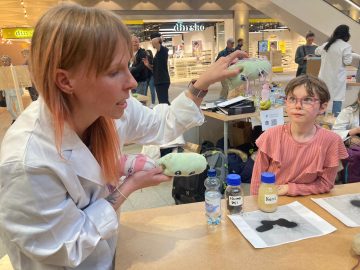 "The speakers get a lot of support from me and the others taking part. The idea is for the speakers to focus on their own specialty and the rest of us, surrounding them, to provide support and make sure they shine! Last year, for instance, we had an in-person meeting at which we tried out on one another various ideas for the presentations and props. The more colorful props researchers have, the more interest their presentations arouse in people who collect near the box. That's our experience," Astrid says.
Last year, she was also one of the researchers who donned a lab coat and gave a presentation on one of the boxes. What she talked about was gene transfer between bacteria and diarrheal diseases.
"It's a completely different way of presenting science than I'm used to, and I sure was nervous. I used soft toys shaped like bacteria and a container holding 'diarrhea' for illustrative purposes. My kids thought it was terrific fun!"
Free rein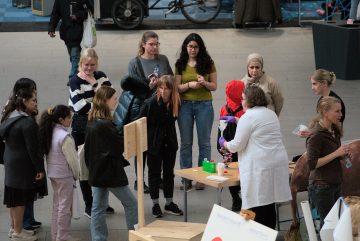 As a researcher, you get a free rein in choosing which area or specific research you want to present, as long as you are an expert in the subject. Preferably, the level of complexity should not be too high and the speaker should be able to find a way into the subject that captures the audience's interest. The researchers must be women or non-binary and active within STEM (science, technology, engineering, mathematics, and medicine) in Gothenburg.
"Sometimes men can take up a huge amount of space and, when research comes under the spotlight, men are often at the center. It's enough to note which researchers are awarded the Nobel Prize: They're usually men. That's why, here, we want to focus on bringing female and non-binary researchers to the fore," says Astrid, who adds that men are welcome to get involved as assistants and in roping in audiences.
Soapbox Science Gothenburg is funded by the Chalmers University of Technology Foundation through the Gender Initiative for Excellence (Genie) at Chalmers.
The joint initiators of Soapbox Science Gothenburg were Anetta S. Härtlova and Astrid von Mentzer, and the latter has now taken over as manager of the 2023 event. Medical student Nicole Kerekes is also contributing to this year's arrangements.
More information:
BY: ELIN LINDSTRÖM