CONFERENCE. Last week saw the conclusion of the 6th International Conference on the Environmental Dimension of Antibiotic Resistance (EDAR6) at the Wallenberg Conference Center. The meeting lasted six days and had 325 participants from 41 countries. Due to Covid-related uncertainties, the meeting was held as a hybrid conference, which went well.
Joakim Larsson, director at the Centre for Antibiotic Resistance Research at the University of Gothenburg and head of the conference, is relieved.
"It's been a long journey, which started more than three years ago, and due to the pandemic, we've had to put off the conference twice. But now when it  finally materialized without any local Covid shutdowns or airport strikes, it felt really good."
CARe hosted the meeting, Meetx was the professional meeting organizer, and in turn, they enlisted the help of the companies Nöjesvärdarna and Trippus. Conference Services at the University of Gothenburg was responsible for the premises and meals. The hybrid format made it possible for online participants to hold lectures, ask questions, and interact around digital posters, which were used by about 75 participants, especially from China, where a fairly long quarantine is still required after traveling abroad.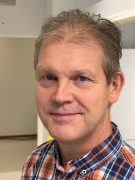 "I have received lots of positive feedback on how smoothly everything ran, especially the technical platform. Hybrid meetings may cost a bit extra, but I think a lot of people were inspired by the format," says Joakim Larsson.
Role of the environment in antibiotic resistance
Over a million people die per year as a direct result of antibiotic resistance. Meanwhile, not a single new class of antibiotics that is active against gram-negative bacteria has reached the market in several decades.
"The failures to develop new antibiotics make the work to prevent the emergence and spread of resistance even more important," says Joakim Larsson.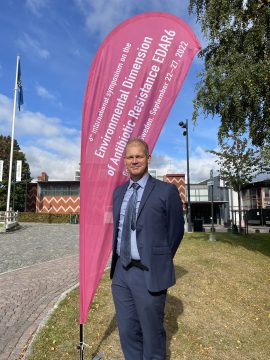 "The environment is an enormous source of resistance genes which, one by one, successfully move from harmless environmental bacteria to bacteria that cause disease. The environment is also a pathway for the transmission of many resistant bacteria." Understanding the role of the environment in both evolution and the spread of resistance is a key to developing long-term, effective measures against this global challenge."
Contributing to the international research front
Targeted research initiatives related to antibiotic resistance are coordinated by the Joint Programming Initiative on Antimicrobial Resistance (JPIAMR), which currently consists of funding organizations from 29 member countries, primarily in Europe. At EDAR6, a workshop was arranged with support from the Swedish Research Council to provide direct input into the draft for a new research agenda for the next decade, which was just developed. Joakim Larsson is a member of JPIAMR's scientific advisory board and initiated the workshop.
"I saw EDAR6 as a unique opportunity to engage the world's leading researchers in the field to identify critical knowledge gaps that must be closed and which pertain to environmental aspects related to resistance," explains Joakim.