STUDENT. Vidar Johansson, who is currently in his fifth semester of the Medical Program, is also a very successful track and field athlete, specializing in hurdles and long-distance running. As one of four students at the National Sports University of Gothenburg, he has now been awarded the National Sports Confederation's and Svenska spel's 2022–2023 Elite Sports Scholarship.
He sees the scholarship as proof that others think he is doing good things in his elite sports efforts:
"Of course, it gives extra motivation to continue to be able to put in all the hours required. The scholarship is certainly very helpful financial support, enabling continued participation in training camps and everything else. With the competition season in the middle of the summer, it is very difficult to have a regular job during these months, but with the elite sports scholarship, I can focus more wholeheartedly on my sport outside of school."
Athletics and studies support each other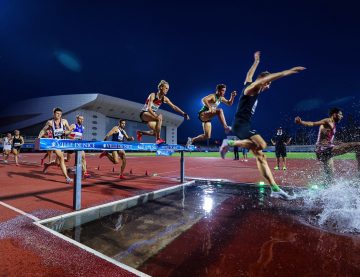 The years in the medical program have also been Vidar's best competitive seasons to date, and he participated in the Summer Olympics in Tokyo last year. He feels it is good to combine medical studies with track and field.
"I want to invest in my sport, and I want to become a doctor one day. At the moment, I think that each of these supports the other. When I train, I can put all my focus on the training and then be able to let it go completely when I'm at school and a student."
Periods with exams and competitions can be stressful and require structure.
"I need to plan my camps well in advance and be aware that I will sometimes miss some mandatory assignments that I have to make up at a later date. It has really helped that the University of Gothenburg is a national sports university, which allows athletes to combine their school and sports optimally."
Leverage his athletics background
Vidar Johansson has just completed this summer's competition season, which included both the European Championships and the World Championships, and is now focusing on preparing for next season. Next year he has his sights set on the World Championships, and in 2024 on the Olympics in Paris, where he hopes to be among the top ten. He competes for Ullevi FK. His medals include a Swedish Championship gold in the 3000 meter hurdles from 2016.
When he becomes a doctor, he would like to leverage his athletics background:
"I will probably change my mind many times during my studies in terms of specialization, but something I think could be interesting in the future is orthopedics with a focus on sports injuries. I also really enjoyed the anatomy course in semester four."
The scholarship is SEK 50,000 and includes help from the Swedish Sports Confederation's Elite Sports Support Department with sports psychology, sports medicine, and other areas. The other three students affiliated with the National Sports University of Gothenburg who also received the scholarship are Olof Ryberg (para-athletics, environmental science), Mirjam Björklund (karate, sociology), and Gustav Berggren (soccer, management and organizational theory).
BY: ELIN LINDSTRÖM