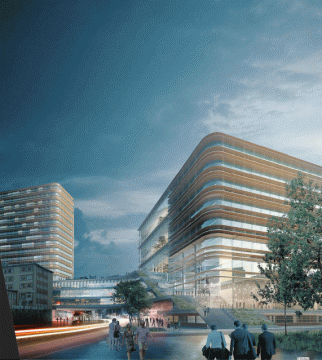 SAHLGRENSKA LIFE. With Sahlgrenska Life, the University of Gothenburg together with the Västra Götaland Region develops operations and buildings for leading research, education, healthcare and innovation. The planning has been going on for years, but now also the physical preparations are approaching.
The project includes new construction of three buildings at Per Dubbsgatan. Building 1 is to be built on the hospital side and building 3 on Medicinareberget, where Sahlgrenska Academy has its location. These two buildings are to be connected with building 2, overarching Per Dubbsgatan.
Preparatory works start in the hospital area, enabling the Västra Götaland Region's real estate administration Västfastigheter to start construction of building 1.
Starting in October is the demolition of the so-called "vault", between Per Dubbshuset and the former "rheumatologist". Furthermore, earthworks for a culvert and temporary roads are needed. Setting up of pavilions is also being prepared. The demolition work will cause disturbing noise and the earthworks also include some blasting, which can also cause vibrations.
For those of you who visit the hospital area or work there, it may also be good to know that accessibility will be affected. The connection between Bruna stråket och Gröna stråket will close for through traffic. This applies until further notice. Orange signage is set up.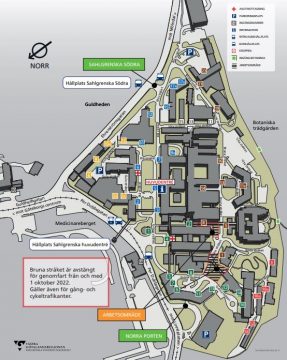 All buildings in the hospital area can be accessed by car through the process, but travel time may be longer. Visitors to Röda, Bruna och Vita stråket are advised to choose the south entrance to the Sahlgrenska area (Sahlgrenska södra) from Ehrenströmsgatan.
The map applies to the works starting during October and shows current closures and work areas.
On Medicinareberget, closest to Per Dubbsgatan, preparatory work and demolitions are also expected, but there is no time plan yet determined. Although the preparations start later on Medicinareberget, building 3 will be ready in 2027, while building 1 will be completed in 2029.
More information about the work in the hospital area for Sahlgrenska Life building 1 can be found on Västfastigheter's website (Swedish): Construction projects affect accessibility – Vastfastigheter
BY: HELEN EASETRLING