STUDENTS. Medical student Linnea Molander will be the first recipient of the newly established Landén Research Scholarship of SEK 120,000. Alongside her medical studies, she belongs to the team led by Professor Ruth Palmer and contributes to research on childhood neuroblastoma.
Starting this year, the Landén Research Scholarship will be announced annually. The scholarship provides SEK 120,000 in project funding to a student in their fifth semester or later of the medical program at Sahlgrenska Academy. The scholarship is funded from proceeds of the Landén Fund, which the Sahlgrenska Academy administers following a donation by sisters Lizzie, Annie, and Eva Landén in 1960. The funds have previously been used as travel grants for medical students who have completed degree projects abroad.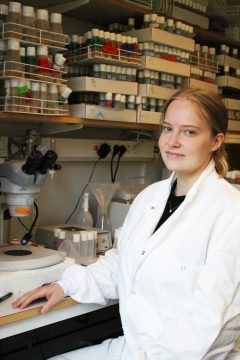 Linnea Molander, who will be starting her seventh semester of the medical program this autumn, becomes the first to receive the scholarship. She thanks both the Landén Fund and Sahlgrenska Academy for their confidence in her: "It is a great honor, and the scholarship means a lot for our work. This gives us the opportunity to introduce and apply new technologies."
Focused on researching
She enjoys working in the research environment and finds it challenging, and she is focused on continuing to research in her future career as a medical doctor.
"As a doctor, you benefit from research experience. You learn about new medical findings and can apply this new knowledge with patients through clinical studies. At an overall level, patients benefit when preclinical research findings can be translated to the clinic."
The supervisor of the research project is Ruth Palmer, a professor at the Institute of Biomedicine. The project sheds new light on how childhood neuroblastoma starts and develops.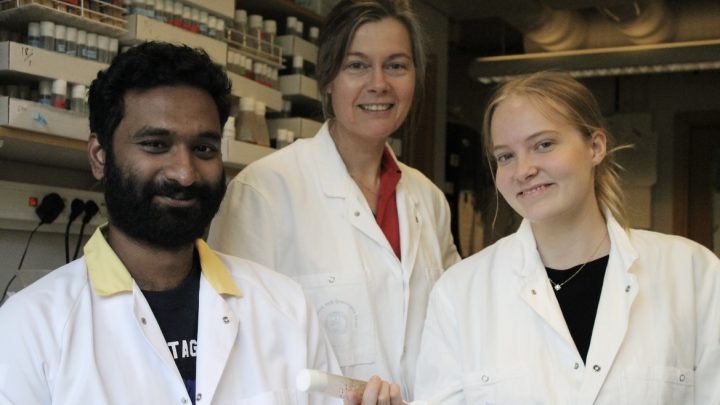 Genetic scissors in fruit flies
The mechanisms that initiate cancer development in neuroblastoma are largely unknown, but a few cancer driver genes have been identified so far, including the tyrosine kinase receptor that is the focus of the anaplastic lymphoma kinase (ALK) project. This receptor can undergo mutation in neuroblastoma, which is associated with a worse prognosis.
The team is investigating signaling pathways linked to ALK activity. The project uses one of the latest CRISPR techniques called "prime editing."
"Using the fruit fly as a model, we generate different mutations in the ALK receptor. ALK has remained essentially unchanged throughout evolution and is found in both humans and fruit flies. This makes the fruit fly a useful model. By introducing mutations at sites that we know are linked to increased receptor activity, we hope to identify and explore signaling pathways that are important for the development of neuroblastoma," says Molander.
A total of seven applications were received. The assessment panel consisted of Filip Bergquist (convener), ail Helou, Giovanni Solinas, and Ingela Parmryd.
BY: ELIN LINDSTRÖM
PHOTO: JENNIFER HALLBERG