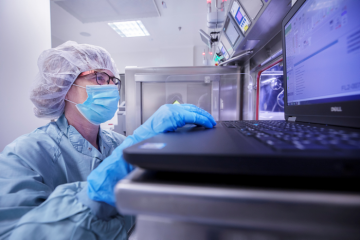 RESEARCH CONDITIONS. The Sahlgrenska Cancer Center (SCC) takes a seat among the top cancer hospitals in Europe. This week it received approval for its application to become a Comprehensive Cancer Center. The accreditation has been in the works since 2019, in collaboration with Regional Cancer Center West and Sahlgrenska Academy.
"This confirms our position on the absolute cutting edge of research and care worldwide," says Hospital Director and Professor Ann-Marie Wennberg.
The Sahlgrenska Cancer Center was established in March 2020 to coordinate cancer care and research. Since then, the organization has taken a series of important steps forward. The Organisation of European Cancer Institutes (OECI) has now confirmed this by accrediting Sahlgrenska Cancer Center as one of Europe's Comprehensive Cancer Centers.
"Such an accreditation validates the fact that Sahlgrenska Cancer Center meets high demands on how cancer care and research are organized. It also affirms that we can provide our patients with good quality care," says Claes Jönsson, Head of Unit and Chair of SCC's Management Council.
Highest international level
Cancer research takes place in close collaboration with Sahlgrenska Academy at the University of Gothenburg, where Agneta Holmäng is dean.
"The accreditation process has helped us confirm that Sahlgrenska Academy's cancer research is at the highest international level," says Holmäng. "Sahlgrenska Cancer Center strengthens our translational cancer research, where important basic research is combined with clinical and health sciences research, allowing the research findings to more quickly benefit the medical care system."
The entire chain of care
Ingrid Kössler, a member of the SCC Patient Council, thinks that the accreditation process has been an important journey for Sahlgrenska University Hospital.
"Our experiences as patients have been used to ensure that the entire care chain maintains the highest level of quality, from notification to rehabilitation. The accreditation means that as patients we can feel confident that we are receiving the best possible care."
Recognition for Swedish cancer care
SCC's accreditation means that Sweden today has three accredited cancer hospitals.
"It is a recognition of Swedish cancer care and research and an important message for the patients we serve," says Claes Jönsson.
Last week, hospital management decided to further promote important and increasingly structured collaboration in the cancer field. The SCC will receive a special center director with a part-time staff.
"We need to create the best possible conditions to continue delivering treatment at the highest level," says Hospital Director Ann-Marie Wennberg.
FACTS: Accreditation requirements
The OECI Comprehensive Cancer Center accreditation program has been in place since 2008 and aims to ensure that all cancer patients in Europe have equal access to high-quality cancer care.
Being an accredited Comprehensive Cancer Center means meeting European quality standards in terms of reception, prevention, diagnosis, treatment, rehabilitation and research, teaching, and education.
By SAHLGRENSKA UNIVERSITY HOSPITAL