INTERACTION. As part of the Science Festival, a Three-Minute Thesis (3MT) winner was selected on Friday afternoon. In this competition, doctoral students describe their research in just three minutes. The winner was Yiwen Jiang, who researches oestrogen and osteoporosis.

In the winter of 2021/2022, the International Centre took the initiative to hold the 3MT competition at the University of Gothenburg. The competition gives doctoral students exactly three minutes to present their research topic to the public in as understandable a way as possible with only one PowerPoint image to help them.
What distinguishes 3MT from similar competitions, such as Science Slam and the Researcher Grand Prix, is primarily the fact that the competition aims at helping doctoral students develop their ability to communicate their research. But also that the presentation time is shorter.
The competition, which was held in Nordstan on the stage of the Science Festival, attracted a large audience, and the eight competing doctoral students were enthusiastically received. Two winners were selected: the audience favourite and the jury's winner. Yiwen Jiang, who researches the subject of oestrogen and osteoporosis, came in first in both categories.
From Nordstan to South Africa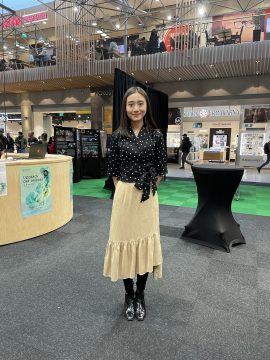 Yiwen Jiang now moves on to an international 3MT competition within the SANORD network, of which the University is a member. This competition will be held in South Africa. She is both happy and surprised at winning.
How does it feel?
"I am amazed, to say the least, and happy, of course. There were several talented competitors, and I really did not expect it to end like this."
What was the biggest challenge of presenting your subject in just three minutes?
"Normally, it takes more than three minutes to introduce my subject. Here, everything had to be summarized in three minutes and for an audience where knowledge of the subject can vary a great deal. This was challenging to say the least."
You won both the audience award and the jury award. How does that feel?
"Overwhelming. I really did not count on this."
How will you celebrate?
"I will go out to eat with friends, colleagues and my boyfriend. What great fun this has been."
READ MORE ABOUT 3MT
Three Minutes Thesis