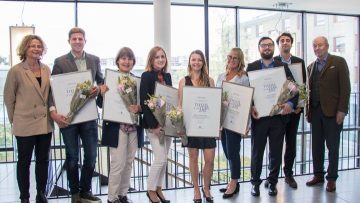 AWARD. Do you know of a really good dissertation that was defended last year? Until February 9, you can nominate for the Sahlgrenska Academy's Doctoral Thesis of the year award.
All staff can nominate, as can all those who defended their dissertations in 2021. However, it is not possible to nominate a doctoral thesis you have written yourself for the award.
The award "Doctoral Thesis of the year at Sahlgrenska Academy" has been awarded annually since 2009. The award is funded by Dr Arnt Vestby's Research Foundation. The purpose of the award is to draw attention to the efforts made by doctoral students and supervisors and to highlight the dissertations that are particularly meritorious in their field. The winner of the "Doctoral Thesis of the Year at Sahlgrenska Academy" will receive SEK 80,000. A prize of SEK 30,000 will be awarded to each institutes's prize winner.
Each nomination must contain a motivation, maximum number of characters 2,000 (= approx. ½ A4 page). The motivation must describe how the Dissertation of the Year differs positively regarding one or more degree objectives for the doctoral degree according to the Higher Education Ordinance.
The nomination must be sent together with the motivation no later than Wednesday February 9, 2022, to arets.avhandling@sahlgrenska.gu.se.
Nominations received are processed by an assessment committee appointed by the Council for Education at Postgraduate Level, FUR, and are assessed on the basis of degree objectives for the doctoral degree in accordance with the Higher Education Ordinance.
The prize will be awarded at the end of May. For questions, contact tanja.johansson@sahlgrenska.gu.se.
Here you can see for a list of doctoral thesis defended in 2021 (Select the dissertations with a publication date from 8 December 2020 and up to and including 25 November 2021. This dissertation unfortunately has the wrong publication date, it was defended in 2020 and can therefore not be nominated at this time.)
BY: TANJA JOHANSSON / ELIN LINDSTRÖM