YOUNG RESEARCHERS. Sahlgrenska Academy will continue inviting young researchers to meetings for discussions about their career paths, both within and outside the University. Meet Jenna Anderson, who has run Career Talks since 2016 and who is now moving on to the next step in her own career.
Sahlgrenska Academy plans to announce the open position as chair of Career Talks shortly. If you are interested in becoming the next chairperson, contact Vice Dean Martin Lagging (martin.lagging@gu.se) or Faculty Officer Patrik Karlsson (patrik.karlsson@sahlgrenska.gu.se).
Jenna Anderson recently moved back to Uppsala, where she is now project coordinator with Professor Arja Harila-Saari at the Department of Women's and Children's Health at Uppsala University. She describes her job as varied and an opportunity to use her doctoral education and research experience to help researchers of childhood cancer at both Uppsala University and Uppsala University Hospital.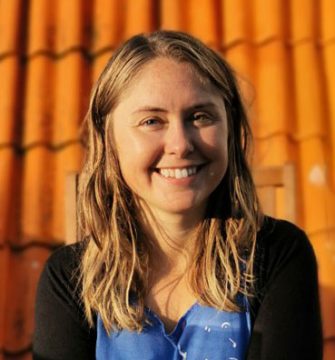 "Career Talks has helped me understand what is important to me for my own career. Now I know that I am passionate about helping other researchers instead of conducting research myself. This has also been a great way to meet inspiring people and find role models. I love Career Talks and am so glad I had the chance to work with it!"
Began in 2016
Anderson has devoted about two hours a week to Career Talks, which she started together with colleagues Johanna Sundin and Sean Bennet in 2016, because they were looking for this kind of forum for themselves.
"We started by inviting friends who had defended their dissertations and had found a job to talk to us about their career paths, what they thought about during their journey, what they had learned, and what their daily working life was like. Everyone was so nice and agreed to come after work in their free time, even though they were not paid. It's amazing how wonderful people can be!"
Many dedicated individuals
Since 2018, the work with Career Talks has been directed by a board composed of Tafheem Masudi, Patricia Mendoza Garcia, Wasi Alam, and Cristiano Santos. They have made great efforts to create a rewarding meeting place for researchers at the beginning of their careers.
"I am grateful for the support we have received, first from the Institute of Biomedicine and then from Sahlgrenska Academy. Knowing that Sahlgrenska Academy's leadership considers Career Talks an important contribution is gratifying. And we really appreciate the support we have received for this grassroots initiative," says Anderson.

Important career support
Career Talks also highlights the support functions available at the University of Gothenburg, so that all researchers have a chance to learn about the resources available from units such as the Grants and Innovation Office, the Department of Research Support, and other key functions within the Sahlgrenska Academy Office.
Jenna Anderson feels that it is important for young researchers to have an opportunity to learn about careers, both within and outside academia:
"Career Talks tries to give young researchers time to reflect on their careers, and just trying to make time for that is important, I think. It is even better if they also learn something new during that time, or if a Career Talks seminar inspires new thoughts. Career Talks also serves as an indirect support for supervisors, because providing career support is part of their role."
BY: ELIN LINDSTRÖM