Eric Hamrin Senorski, associate professor of physiotherapy at Sahlgrenska Academy, has been selected by the Swedish Olympic Committee (SOC) in its initiative to support six promising sports researchers. Beginning this autumn, the selected researchers will be included in Olympic Offensive, SOC's new development program.
All details about the development program have not yet been disclosed, but the idea behind the initiative is the long-term strengthening of Swedish elite sports by supporting promising researchers studying sports medicine. For Senorski, the appointment provides a great opportunity to find new collaborations and develop his line of research: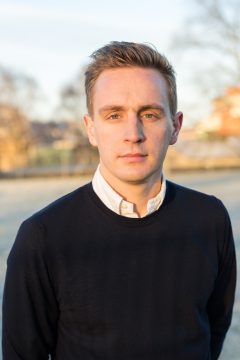 "It is a great honor to be selected and know that SOC recognizes the research I have conducted so far. The development program provides access to education and research networks and close contact with Swedish elite sports," he says.
Long-distance runners at the elite level
Senorski himself has a background as an elite athlete. As a long-distance runner for Örgryte Sports Club, he won several Swedish championship gold medals in 2011 and 2012. In parallel with his sports career, he trained as a physiotherapist at the University of Gothenburg, followed by doctoral studies. In 2018, he defended his dissertation on rehabilitation after a cruciate ligament injury, and in 2021 he was appointed associate professor of physiotherapy at Sahlgrenska Academy.
He works as a physiotherapist at Sportrehab, a private primary care unit associated with Region Västra Götaland. He combines his clinical work with research within the sports medicine team at the Department of Orthopedics at the University of Gothenburg.
"Through SOC, I hope to conduct research that really benefits patients. Being able to implement research findings brings me closer to sports and provides a better opportunity to help athletes with the problems they experience," says Senorski, who looks forward to getting in touch with the other five researchers appointed to the program.
Tailor-made treatments
As a researcher, he focuses mainly on serious knee injuries, such as anterior cruciate ligament injuries, a common diagnosis in sports medicine.
"We study both treatment of patients and their outcomes to find tailor-made treatments for each patient. We have also started working with Chalmers University of Technology to find innovative and technical solutions, including the use of artificial intelligence and machine learning," Senorski adds.
The five other researchers appointed by SOC within the Olympic Offensive initiative are Filip Larsen (Swedish School of Sport and Health Sciences), Katarina Steding-Ehrenborg (Lund University), Anna Melin (Linnaeus University), Carl-Johan Boraxbekk (Umeå University/University of Copenhagen), and Andreas Almqvist (Luleå University of Technology).
More information is available in Swedish at SOC's website: https://sok.se/arkiv-for-artiklar/2021-08-16-sok-satsar-pa-forskare.html
BY: ELIN LINDSTRÖM