NEW STUDY. Thanks to many years of basic research into the rare cancer neuroblastoma, some very seriously ill children can now be returned to health. The treatment is simple, has significantly fewer side effects, and has a surprisingly fast effect.
A major European collaboration, which includes researchers at the University of Gothenburg and Karolinska Institutet, has now published its results in the Journal of Clinical Oncology. It will have a major impact on children suffering from neuroblastoma. The researchers show that children with mutation in the ALK gene have poorer prognosis than those suffering from neuroblastoma with a different cause and that there is potential to cure these children.
This is what is known as precision medicine, in which researchers analyze the whole genome of tumors in children suffering from neuroblastoma. Basic research into how mutations in the ALK gene drive the development of high-risk neuroblastoma has led to treatment with ALK inhibitors for children with these mutations. These drugs have previously been used for other types of cancer, which meant that the results of the experimental research could rapidly be applied as effective treatment for children suffering from high-risk neuroblastoma.
Makes a difference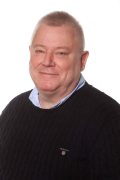 "A number of children have already been given ALK inhibitors based on our findings, and despite a relatively short follow-up, they seem to have often responded very well to the treatment. I am proud that we have contributed and really made a difference," says Tommy Martinsson, professor at the University of Gothenburg, who led the Swedish part of the study together with Per Kogner, professor of pediatric oncology at the Karolinska Institutet and consultant physician at Karolinska Hospital.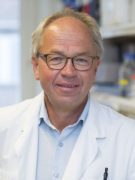 "The current results are an important breakthrough for affected children, their families and for research," says Per Kogner, who is also a pediatric oncologist at the Astrid Lindgren Children's Hospital. "We can now move from simply mapping the gene changes in a few patients to finding all children with neuroblastoma who have ALK changes and providing them with early, tailor-made, effective, and gentle treatment. Our good experiences from the treatment of Swedish children is important, although in Europe they intend to give ALK inhibitors together with cytostatics and other established treatments."
A dream become reality
Torben Ek is a consultant at the Children's Cancer Centre, Queen Silvia's Children's Hospital, and was able to use ALK inhibitors for the first time a few years ago.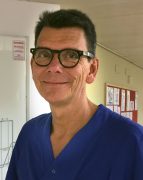 "High risk neuroblastoma is a type of cancer for which children have historically had very poor chances of survival. The individual children we have treated with ALK inhibitors have shown a regression that we did not think was possible. This is a tablet-based treatment, with mild side effects, that completely removes the metastases. That would have seemed like a dream 20 years ago. We are very motivated to find the approximately 15 percent of patients whose neuroblastoma is driven by ALK mutations to try to treat them with ALK inhibitors."
Requires collaboration
Because the disease is rare–only a handful of children contract high-risk neuroblastoma with ALK mutation every year–a major European collaboration was required to assemble the patient base necessary to demonstrate that ALK inhibitors work for children with the gene mutation. Researchers in 19 countries took part in the study, which in just one year included just over a thousand children with high-risk neuroblastoma.
Winning bet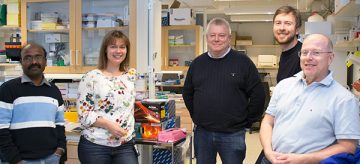 A massive initiative five years ago by the Foundation for Strategic Research (SSF) is behind the research. The goal of this project was to find new ways of discovering the type of neuroblastoma from which a child was suffering to provide the best possible treatment. The SSF initiative involved increased collaboration among five researchers at the University of Gothenburg and two at Karolinska Institutet. This was funded by both the Swedish Childhood Cancer Fund and the Swedish Cancer Society. In addition to Tommy Martinsson, the Gothenburg team includes Ruth Palmer, Bengt Hallberg, Chandrasekhar Kanduri, and Erik Larsson Lekholm. From Karolinska Institutet, Per Kogner is joined by John Inge Johnsen, both of whom are researchers in pediatric oncology. Their research is also supported by both the Swedish Childhood Cancer Fund and the Swedish Cancer Society.
Neuroblastoma is a heterogeneous cancer that affects about twenty children a year in Sweden. The disease mainly affects young children and is found in both mild and very aggressive forms. Neuroblastoma occurs in the sympathetic nervous system, a part of the automatic nervous system and can cause tumors in various parts of the body.
Can be significant for more children
All children suffering from cancer in Sweden can now be genetically screened, thanks to Genomic Medicine Sweden, which is a national initiative to strengthen Swedish care, research, and collaboration within precision medicine.
"We can also see ALK activation in those children whose disease is not driven by a mutation in the ALK gene, which may suggest that they could also be helped by treatment with ALK inhibitors. We need more scientific evidence for that before it can become a reality," says Tommy Martinsson.
Title: Frequency and Prognostic Impact of ALK Amplifications and Mutations in the European Neuroblastoma Study Group (SIOPEN) High-Risk Neuroblastoma Trial (HR-NBL1).
BY: ELIN LINDSTRÖM