ALF GRANTS. In mid-April, the office for the Regional Agreement on Medical Education and Research (ALF) announced that 36 researchers had received an ALF position in the latest call for proposals. They include doctoral student Linda Wass, who becomes the first biomedical analyst to receive an ALF research position.
Linda Wass, a special biomedical analyst in clinical microbiology at Sahlgrenska University Hospital, also works half-time as a doctoral student on Christine Wennerås's team. The ALF position means that she can continue to conduct her research in parallel with her clinical work.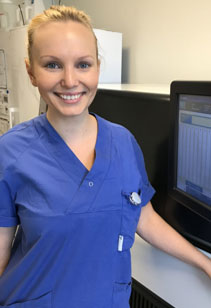 "I am honored to be the first biomedical analyst, or BMA, to receive an ALF position. I hope this initiative raises the status of my professional category and encourages more BMAs to apply for and engage in research. A BMA has a lot of expertise and experience that should always be made use of in research and development," Linda told Sahlgrenskaliv, the Sahlgrenska University Hospital's staff magazine.
Successful cultivation
Wass has worked within the research project since 2015 and has also served as a doctoral student on the team since 2019. The team studies the tick-borne neoehrlichiosis disease, which was first described in 2010. Up to now, this is a rare infectious disease, with some 20 known cases in Sweden. The disease is caused by the Neoehrlichia mikurensis bacterium, which could not be detected with culture-based methods for a long time.
"Our research team became the first in the world to successfully cultivate the bacterium in 2019, a project that was incredibly enjoyable to participate in. Within my doctoral project, we want to increase our understanding of the infectious disease and develop new clinical diagnostics so that we can find and help more patients," says Wass.
Affects blood vessels
Neoehrlichiosis affects both healthy individuals and those with compromised immune systems. Patients can experience skin rashes, fever, muscular pain, inflamed blood vessels and blood clots (thrombosis or embolism) in veins and arteries. Many neoehrlichiosis patients have gone for a long time without a diagnosis, and some have suffered life-threatening complications that have affected their blood vessels.
Akademiliv has previously published the list of all 36 researchers who received ALF research positions in this call. The full list is available on the ALF office's website.
BY: KATARINA HALLINGBERG / ELIN LINDSTRÖM