NEW VISITING PROFESSOR. "When I started working as a physician in South Africa, I clearly saw the consequences of inequality. The malnutrition and tuberculosis that I encountered among black patients occurred to a much lesser extent – or not at all – in the white population. Since then, my work has involved finding ways to understand and correct inequality." These are the words of Sharon Fonn, the Institute of Medicine's new visiting professor of global sustainable development specializing in health and well-being.
Sharon Fonn, a professor of public health science at the University of the Witwatersrand in Johannesburg, South Africa, is internationally recognized for her research aimed at improving the public health care system, with a focus on maternity care, HIV and chronic diseases. She has been an honorary doctor at Sahlgrenska Academy since 2015.
Sharon Fonn, welcome to the Institute of Medicine! Tell us where your interest in research originated.
"You cannot be born and raised in South Africa without seeing different forms of injustice every day. That is what sparked my interest in research and what still dominates my research today. My interest in equality issues also motivated the work I did in reproductive health and maternity care and especially my work related to gender and health."
What do you look forward to in the near future with us?
"It is a privilege to work in a context with so many resources and – even more important – to work with talented researchers who have the same values I have. I look forward to investigating whether there is anything new and interesting that can be done with the amount of research data collected in the department."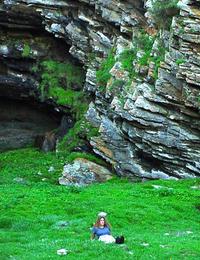 What will you initially focus on as a visiting professor here? 
"The EU's global Sustainable Development Goals (SDGs) are a priority for the University, and I know a number of professors appointed from other disciplines will also focus on sustainability goals. I look forward to meeting these people and others at the university so that we can create a new multidisciplinary or interdisciplinary way of working. I am particularly interested in finding meaningful, useful indicators that can be used to measure whether – and how – we are achieving sustainable development.
My second area of expertise is curriculum development, and I especially look forward to working with colleagues in the School of Public Health and Community Medicine as we go through master's courses and develop an integrated curriculum. It is a creative process that can be very enjoyable."
Major contribution to SDG3 efforts
Max Petzold, a professor of health sciences statistics and head of the School of Public Health and Community Medicine, says that the school has had the pleasure of collaborating with Professor Fonn for several years through the CARTA consortium.
"That collaboration also resulted in Professor Fonn agreeing to be appointed an honorary doctor at Sahlgrenska Academy in 2015. So we are well aware of the outstanding knowledge and commitment Professor Fonn possesses and look forward to developing our SDG3 efforts together with the rest of the academy and the University in both teaching and research," says Petzold.
Current projects
Competition Commission of South Africa
In recent years, Fonn has worked on a project for South Africa's Competition Commission. The purpose is to investigate how private health care works, if it is effective and if it follows the country's competition rules.
"This is another example of inequality in South Africa. The private health care system accounts for about 50 per cent of annual health care spending in South Africa but serves only about 15 per cent of the population.
We discovered that the competitive situation was not as good as it should be. In addition, there are no performance measures regarding health in South Africa, so people do not know the quality of the care they pay for. This is a major shortcoming, unlike the completely different situation in Sweden, where health results are public."
Fonn now hopes to find people at Sahlgrenska Academy working on reporting health results and to initiate a joint effort with South Africa to develop that aspect of the South African health care and medical services system.
Executive-summary-Presentation-of-the-final-findings-and-recommendations-report.pdf (compcom.co.za)
Consortium for Advanced Research Training in Africa – CARTA
In another project, Fonn is investigating the effects of the CARTA consortium for advanced doctoral education in Africa. The University of Gothenburg has been a longstanding partner in CARTA, which aims to offer opportunities for research on public health in Africa by Africans.
"Having just finished the tenth year of the project, we have investigated the extent to which we have reached our goal – and the answer is that we have done well. We have recruited over 200 African doctors, of which almost half have obtained degrees and work in academia and with research in Africa.
Building capacity is a long-term investment though. We are at the stage where we try to ensure that everyone who has obtained a degree within the CARTA framework has a future in research and that the institutions where they work support research. So this very satisfying work continues."
BY: JENNY MEYER
This article was first published by the Institute of Medicine.