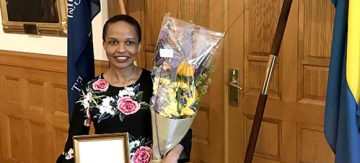 INTERNATIONALIZATION. All departments and institutes at the University of Gothenburg are invited to nominate an excellent international student no later than Wednesday 31 March. Among the nominations received, a student is selected to represent the University of Gothenburg at a ceremony arranged by the Swedish Institute (SI) and the Ministry for Foreign Affairs on 28 May.
Due to the ongoing pandemic, this year's ceremony will take place digitally via Zoom. More information on the procedure for the ceremony to be shared with the selected candidate and nominating institution.
After the ceremony, the Global Swede candidates will be part of SI's alumni network, which today comprises just over 15,000 people from 140 different countries.
The Global Swede ceremony is aimed at excellent students with a high academic level at the end of their education. The student must be a citizen of a country outside the EU / EEA.
Read further in the Staff Portal: https://medarbetarportalen.gu.se/internationalisation/incoming-student/global-swede-ceremony/?languageId=100001&skipSSOCheck=true
BY: LENA PEDERSEN