RESEARCH SCHOOL. Research in the borderland between technology and health is becoming increasingly important. Now Chalmers University of Technology and Sahlgrenska Academy have together started a new collaboration, where pairs of researchers receive training in ways to solve health care challenges.
The health care system is facing major challenges as our population increases and grows older. New technology can provide support and solutions, and technology focusing on health is also developing at a rapid pace. Collaboration between the health care system and engineering is gaining a higher priority, including through several collaborations in both education and research among Sahlgrenska Academy at the University of Gothenburg, Chalmers University of Technology, and Sahlgrenska University Hospital.
Working in pairs
The newly started Gothenburg Research School of Health Engineering represents a new way of tackling health care challenges. Doctoral students from Sahlgrenska Academy and Chalmers will work in pairs–one from each university.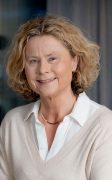 "We now jointly train a new type of researchers and experts with good knowledge in health, medicine, and technology. This allows us to increase the interdisciplinary collaboration between engineering and medicine in many different research areas, which in turn increases the potential for addressing health challenges and specific issues in health care, where technical competence is becoming increasingly important," says Agneta Holmäng, dean of Sahlgrenska Academy.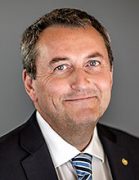 "We are very happy to now expand our collaboration through pairs of doctoral students, which enables doctoral students in medicine and engineering to work together on important research issues," says Stefan Bengtsson, President and CEO of Chalmers. "At Chalmers, we are very interested in developing technology that can help the health care system meet future challenges, and we also see that a close collaboration with both the hospital and Sahlgrenska Academy strengthens our expertise, making us an even more attractive choice for researchers and students."
Relevancy to health care
Together, the pairs of doctoral students will solve problems identified by the health care system. The initiative is funded in part by Region Västra Götaland.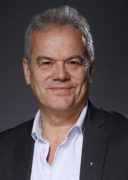 "Increased collaboration among universities and the health care system promotes regional development," says Anders Carlberg, who heads Region Västra Götaland research, development and education. "The long-term collaboration between Sahlgrenska University Hospital and Sahlgrenska Academy integrates clinical activities and research. With Chalmers now taking part in the collaboration, we will be able to include new technology in the projects. This can prove to be of great importance."
Martin Lagging, vice dean for PhD studies at Sahlgrenska Academy, considers the research school a unique collaboration that is now moving from the drawing board through the creation of the first doctoral course.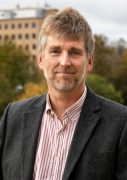 "The course is also open for doctoral students who are not formally enrolled in the research school," he points out. "In the longer term, we hope that the research school will expand and pave the way for increased collaboration between Sahlgrenska and Chalmers, because we can see that technology is becoming an increasingly important part of medicine."
Coordinated by both universities
The research school is being coordinated both by Sahlgrenska Academy, through Justin Schneiderman, and by Chalmers, through Malin Barman.
The first projects deal with medical engineering and involve improved image analysis. With new technology, it will be possible to teach artificial intelligence (AI) systems to recognize signs of incipient cardiovascular disease and other conditions.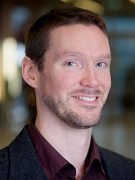 "We can collaborate in many more areas. Eventually we will expand the research school and include data analysis, biotechnology, and more AI applications," says Justin Schneiderman, an associate professor at MedTech West and an AI advisor for Sahlgrenska Academy.
Experts in the intersection of engineering and health
The overall goal of the research school is to increase collaboration and interfaces. But the school also aims to shape a broader research expertise through individuals at the intersection of health and engineering, who can understand and 'speak the language' of both disciplines. To achieve this, each doctoral student has supervisors at both institutions, and they will present lectures to each other to share their areas of expertise.
"The doctoral students need to be given proper opportunities to network, including by working on group projects and by having the opportunity for open-ended discussions over lunch and coffee. In this way, they can learn more about other disciplines and share experiences and areas of expertise."
The doctoral students also attend a course together: a seminar series covering interdisciplinary subjects, such as ethics, innovation, utilization, and AI.
Research that can be applied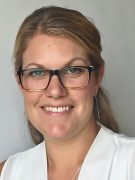 "The seminar series is also open to other doctoral students working in the field of health," notes Malin Barman, who is coordinating the research school on behalf of Chalmers.
For Chalmers, the initiative will be a way to gain additional input from the health care system, to ensure that researchers focus on the right issues, and to utilize their expertise.
"We undoubtedly will strengthen our competency within health care. We will also gain a clear link to the utilization of our research so we can find technical solutions that can be implemented more quickly in the health care system."
Facts: The seminar series within the Gothenburg Research School of Health Engineering
The seminar series in the field of health and engineering starts in February 2021. The aim is to expand the doctoral students' knowledge in areas that link health and technology, such as innovation, utilization, ethics, and AI. The course provides three credits, and it is planned to be offered every year.
The seminar series comprises 10 or more seminars, approximately one per month presented by both external and internal lecturers with expertise in each area.
The goal is for the doctoral students to complete the course with:
a broader perspective and understanding of how their own research can be utilized and disseminated.
a greater understanding of how AI and medical technology solutions can be helpful in health care.
the ability to identify and discuss ethical aspects of their research.
knowledge of how to go about translating results from their research projects into utilization.
the ability to demonstrate and discuss their research projects with stakeholders and interested parties from a utilization and innovation perspective.
The seminar course is required for doctoral students at the Gothenburg Research School of Health Engineering but open to other doctoral students working in technology and health care at Chalmers or Sahlgrenska Academy. If you have any questions, please contact Justin Schneiderman at justin.schneiderman@neuro.gu.se.
BY: MIA MALMSTEDT & ELIN LINDSTRÖM