DISTINCTION. Mona Ringdal and Angela Bång, both associate professors at the Institute of Health and Care Sciences, recently received the title of "Excellent Teacher" at the University of Gothenburg. This brings the number of teachers at Sahlgrenska Academy receiving this title in recognition of their teaching expertise to 16.
A total of 29 people at the University of Gothenburg have now been awarded the title of Excellent Teacher, including the 16 at Sahlgrenska Academy.
The first course for nursing students
Angela Bång is an associate professor in health sciences. She researches and teaches emergency care, particularly treatment assessment of patients affected by sepsis and acute coronary artery disease. She serves as course coordinator for the nursing program's very first course, which introduces students to the main subject of nursing and the main features of the profession.
"It is especially enjoyable and inspiring to develop the introductory course because the subject is new for the students. At an early stage they find ways to create a good understanding of how the subject is structured, the knowledge on which it is based, the history of the nursing profession and the current status of development," says Bång.
Proper emphasis
Bång thinks that being honored with the title Excellent Teacher is a way for the University to give the educational mission its proper emphasis and promote  the mission's development. She personally thinks that the title plays an important role in confirming the theoretical starting points and the methodology she has chosen in various learning activities and summative assessments:
"This provides me with additional job satisfaction and a degree of self-confidence to continue trying to find new development opportunities regarding teaching and learning and forms and content."
Meeting her students
The most enjoyable thing about being a teacher is engaging students in dialogue, taking note of their experience of instruction and its contents, developing courses that are as interesting and inspiring as possible, and creating a context in which students can find themselves.
"I want students to perceive their self-worth and how their commitment to their education has a great bearing on helping them become competent and confident professional nurses." Angela Bång sees great potential for societal development through the subject of nursing care and the students' insights in this area.
Specialist nursing education at the master's level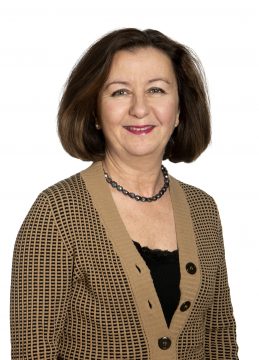 Mona Ringdal is an associate professor of nursing. She researches and teaches intensive care and patient safety in the specialist nursing program focusing on intensive care and combines her academic position with a combined position as a nurse in the Anesthesia Clinic at Kungälv Hospital/Hospitals in the West (Sjukhusen i Väster).  Ringdal also serves as assistant head of department and director of studies for Sahlgrenska Academy's doctoral courses and programs at the department.
Increased responsibility in the future
"The fact that I have now been appointed an Excellent Teacher does not only mean a recognition of my teaching skills. It also entails a greater responsibility in the future, which means that I will be involved in educational issues on a more comprehensive level than before," says Ringdal.
"Meeting undergraduate, master's and doctoral students who invest in themselves and their future by educating themselves is very interesting. So is teaching, supporting and following them during their education and seeing how they develop in their profession as a nurse. Supervising doctoral students and being a part of their journey in research is always just as fascinating."
Supports students in their learning
As a teacher, Ringdal primarily wants to support students in their own learning process and their ability to believe in themselves. One way to do this is by showing students how research and new evidence can be used in their work as a nurse and how this strengthens the profession and results in better care and faster recovery for patients.
"The teaching mission also includes a large creative component that appeals to me by allowing me to design lectures, seminars and examinations so that students gain insight and feel that they are acquiring new knowledge. Being involved in shaping the nursing profession in the future through various international and national commitments is interesting and fun."
Respects their efforts
As an educator, over the years Mona Ringdal has become more aware of students' differing circumstances during their period of study, such as their study habits from university, knowledge of languages and the time that can be allocated for their studies.
"I have a great respect for the students' efforts and believe that I can help them achieve the goal of their education by meeting students at the right level in the learning process."
BY ELIN LINDSTRÖM