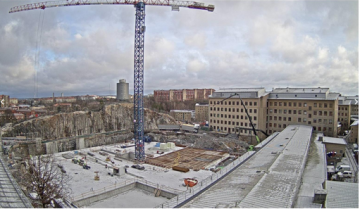 CONSTRUCTION INFORMATION. Akademiliv provides information on the construction of Natrium on Medicinareberget for the period weeks 51-02 (December 15 – January 15).

The current information about constructions on Medicinareberget is distributed with special mailings and in Akademiliv every four weeks. As far as the information mailings are planned, you will receive these mailings with information February 15, March 15, April 12, May 10, June 7 and August 16.
In regards of covid-19, there is currently no impact on the progress of the projects, but developments can change quickly. The University of Gothenburg and Akademiska Hus are closely monitoring developments and are making adjustments as needed.If you have questions about the construction activities, feel free to email medicinareberget@gu.se.
This text contains references to addresses. An updated map is available in PDF format on the Campusservice Medicinareberget web page on Medarbetarportalen via link here.
Outside the construction site
Minor work will be carried out on Medicinaregatan to restore the ground after previous activities.
Transports to and from the construction site will increase somewhat during this period.
Activities on the construction site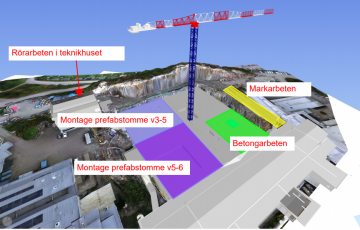 The construction work is resumed after the Christmas break. The team has prepared for a rough winter with the right equipment and road salt, which proved useful already last week in the snow fall last week.
Erection of the superstructure for the first floor starts in the coming weeks. Walls, pillars, beams, and floors in steel and concrete will be mounted. (see image) Concrete work is ongoing in parallel in other places and castings takes place continuously during the period.
Retaining walls at the ramp along Nya Forsken are being prepared.
The fence will be reinforced on the EBM yard. Additional asphalt work will be made, partly inside the construction area as well as on the EBM yard. Maintaining an even surface both there and on surrounding roads will facilitate transports and reduce vibrations that might disturb nearby operations.
Activities inside Medicinarelängan
Demolition continues and construction of interior walls is about to start.
A lab mock-up is built on the first floor, equipped with the same surface layers, installations and furnishing as in the design plan for Natrium. This is done to establish a shared view between the project team and the future tenants. In addition, it enables adjustment of details before moving into the production phase and serves as quality assurance of the expected result seen from the end user's perspective.
Work on Teknikhuset (see image), a part of the Natrium project, is also starting up. A larger door will be mounted on the facade facing EBM.