CONSTRUCTION INFORMATION. Akademiliv provides information on the construction of Natrium on Medicinareberget for the period weeks 47-50 ( November 16 – December 11).

The current information about constructions on Medicinareberget is distributed with special mailings and in Akademiliv every four weeks. The semester's last construction information will come on Monday 14 December.
In regards of covid-19, there is currently no impact on the progress of the projects, but developments can change quickly. The University of Gothenburg and Akademiska Hus are closely monitoring developments and are making adjustments as needed.If you have questions about the construction activities, feel free to email medicinareberget@gu.se.
This text contains references to addresses. An updated map is available in PDF format on the Campusservice Medicinareberget web page on Medarbetarportalen via link here.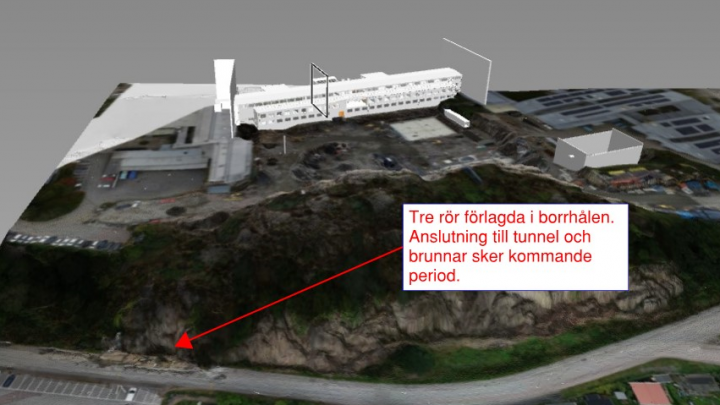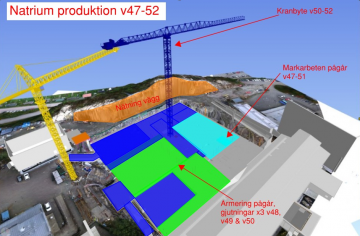 On the construction site
At the construction site, the casting work progresses. See illustration. In blue areas, casting is completed. The green areas marks areas with ongoing preparations for base slab casting. Light blue areas shows preparatory groundwork. In grey, the final part of the casting, due for the first quarter of 2021.
A new crane with higher lifting capacity will replace the current one during week 50-52.
The rock wall will be covered by a net, an activity that stretches until Christmas.
Inside Medicinarelängan
Medicinarelängan – downstairs
Demolition has been resumed after change of contractor, and is estimated to be ready by Christmas. Scrap containers are back outdoors.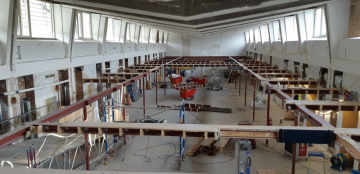 Medicinarelängan – ground floor

Demolition of a brick wall starts in week 48, a less busy period for operations nearby.