APPOINTMENT. The Young Academy of Sweden welcomes eight newly appointed members from the Universities of Gothenburg, Linköping, Lund, Stockholm, Umeå, and Uppsala. Johan Zelano, assistant professor of neuroscience, is one of the newly appointed members.
Johan Zelano's research focuses on improving methods for diagnosing and treating acquired epilepsy. He is a specialist physician at the Institute of Neuroscience and Physiology and at the Neurology Clinic at Sahlgrenska University Hospital. His research team is also affiliated with the Wallenberg Centre for Molecular and Translational Medicine (WCMTM).
During his appointment as a member of the Young Academy, he hopes to contribute knowledge about clinical research and to work for improvements in the clinical research environment.
"I am passionate about clinical research. It has unique requirements which I believe are important to include in the ongoing debate on research policy. I am particularly concerned about the conditions under which future clinical researchers will have to work. Personally, I hope that my involvement in the Academy will result in meetings and contact with other researchers, which could be of value to several of my research projects."
Five-year appointments
The Young Academy of Sweden is an independent forum for leading young researchers from a wide range of disciplines. Appointments are for five years, ensuring that the Academy remains forever young.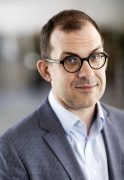 "Welcoming newly appointed members is one of the most exciting things we do in the Young Academy of Sweden. The inclusion of new fields of research and new academic institutions enriches the organization and is one of our great strengths," says Sanna Koskiniemi, associate senior lecturer in microbiology at Uppsala University and newly appointed chair of the Academy. "The coming year will be important for us. We are continuing our work to influence research policy in the current changing landscape, we are celebrating our 10th year, and we are launching a children's book with portraits of researchers."
A Strong Voice
The Young Academy of Sweden has established itself as a strong voice within higher education. The limited appointment encourages member involvement and taking advantage of the platform. Examples of initiatives include proposals for clearer career paths for young researchers, a career seminar to tour higher education institutions, and the national survey of associate senior lectureships.
The members of the Academy work across disciplines to get to know each other and create activities together. They take part in outreach activities, with the hope of providing new perspectives on who can become a researcher. Through initiatives such as the forthcoming children's book (coming in March 2021) with illustrated portraits of researchers and short film festivals for youth, the Academy creates role models and offers a gateway into the world of research. Through workshops and public calls to action for improving the environment for research, the Academy also actively influences research policy, particularly in advance of the coming research policy white paper. The Academy's agenda also includes broadening and diversifying recruitment to research positions and protecting academic freedom.
The Young Academy of Sweden was established by the Royal Swedish Academy of Sciences in 2011. It has around 35 members.
TEXT: THE YOUNG ACADEMY OF SWEDEN / ELIN LUNDSTRÖM
PHOTO: JOHAN WINGBORG