CONSTRUCTION INFORMATION. Akademiliv provides information about the construction of Natrium on Medicinareberget for the period week 43-46 (October 19-November 13).

Currently, information about constructions on Medicinareberget are distributed with special mailings and in Akademiliv every four weeks. For the rest of the year, the information will be according to the schedule on Monday 16 November and Monday 14 December.
In regards of covid-19, there is currently no impact on the progress of the projects, but developments can change quickly. The University of Gothenburg and Akademiska Hus are closely monitoring developments and are making adjustments as needed.If you have questions about the construction activities, feel free to email medicinareberget@gu.se.
This text contains references to addresses. An updated map is available in PDF format on the Campusservice Medicinareberget web page on Medarbetarportalen via link here.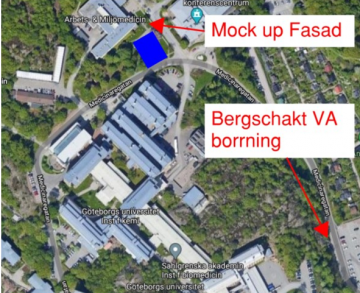 Work outside the construction site
A mock-up facade is now placed outside of the project office for Natrium next to Occupational and Environmental Medicine. The purpose with presenting mock-ups early on in a project is to get a better view on the visual appearance of a module at the location and check details on how the module interacts with other modules.
The car lane on Medicinaregatan remains closed for a while. The reason behind is a drilling work for pipes all the way through the rock from the building down to Medicinaregatan. The drilling continues until week 45. This activity is depending on permissions from various authorities and an end date is therefore not yet available.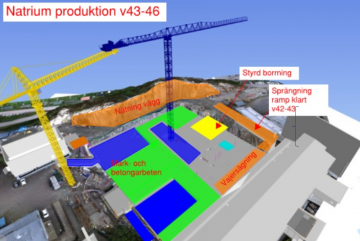 Activities at the construction site
The final high impact blast in the project takes place Tuesday week 43, a milestone, especially for the teams nearby that have had been challenged during the blasting phase.
Going forward there might be a need for blasting in terms of splitting larger rocks in smaller pieces to enable outloading. No vibrations are caused by this activity.
Reinforcement work will continue in certain areas. The rock will be covered with a net, preventing rocks from falling down.
Wire sawing was finalised during week 42 and ouloading will follow.
The earthworks and casting continues in multiple places over the area.

Activities inside Medicinarelängan
Inside Medicinarelängan the demolition work has slowed down due to the bankruptcy of one contractor. Demolition can be resumed at the earliest in week 43. At that point, the construction team will re-establish contact with the responsible person for lab courses at Sahlgrenska Academy.
In the Staff Portal, you will find more information about construction projects at Medicinareberget: https://medarbetarportalen.gu.se/sahlgrenskaakademin/byggprojektmedicinareberget/