AWARD. Thomas Karikari, a researcher in clinical neurochemistry at the University of Gothenburg, is one of this year's recipients of the Fondkistan Foundation scholarship that the Swedish Alzheimer's Foundation awards to promising young researchers. The award was presented on September 21 during the live broadcast of the Alzheimer's Foundation event on International Alzheimer's Day, in which several other leading dementia researchers from Gothenburg also participated.
This year two promising young researchers shared Fondkistan's scholarship. In addition to Karikari, Sebastian Palmquist at Lund University also received the award. Each winner received SEK 100,000 to support their research, and they received the award for the best scholarly article published in one of the major scholarly journals. Higher education institutions in Sweden have been able to submit nominations, and the Alzheimer's Foundation's scientific council made the selection.
Simpler Alzheimer's test
The article for which Thomas Karikari was recognized for evaluates a new blood test for Alzheimer's developed under the direction of Kaj Blennow and Henrik Zetterberg. The method measures a specific variation of the tau protein in a regular blood test, which makes the test easier and cheaper to perform. Lancet Neurology published the article just before the summer.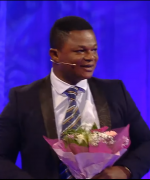 "The Alzheimer's Foundation is one of the major funders for Alzheimer's research in Europe, and when I first came to Sweden, they also funded my research. The Alzheimer's Foundation has contributed to the discoveries we have made, and this scholarship will help us implement the blood test and introduce it to clinical practice," Karikari said during the award ceremony.
Wonderful to support
The award was presented by Liselotte Jansson, secretary general of the Alzheimer's Foundation, together with Mikael Åbom, CEO of Fonus and a representative of the Fondkistan Foundation.
"It is wonderful to be able to support promising young researchers. This is a concrete way for a small foundation like ours to support research," Mikael Åbom said during the event.
The purpose of the streamed event was to raise more money for Alzheimer's research. Annika Jankell served as program host.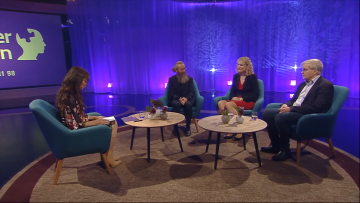 More researchers participated
Dementia research in Gothenburg was well represented during the event. Silke Kern, Ingmar Skoog and Henrik Zetterberg all participated in a studio discussion about the conditions for clinical research and diagnostics, future pharmaceuticals, and the risk factors identified for Alzheimer's. Each of these researchers also contributed with an in-depth recorded lecture, which can now be seen on the Alzheimer's Foundation's website.
TEXT: ELIN LINDSTRÖM
PHOTOS FROM THE ALZHEIMER'S FOUNDATION EVENT