RESEARCH CONDITIONS. Researching staff at Sahlgrenska Academy and within Region Västra Götaland have access to Akademistatistik's experts. They can help you with both applications and studies. The first five hours are free of charge, thanks to an initiative from Medisam.
Akademistatistik mainly supports researchers when applying for research funding, when projects are getting started, with the analysis required for processing results, and when an article is being written.
Subsidized by Medisam
During an initial consultation, you can discuss your project with two statisticians for 70 minutes in an online Zoom meeting.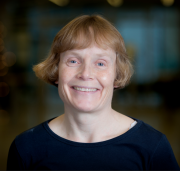 "We have chosen Zoom for two reasons: partly because it is coronavirus-safe and partly because it has logistical advantages for some of our customers. But, if you prefer a physical meeting, we can arrange that too," says Catrin Wessman, a senior lecturer at the School of Public Health and Community Medicine and one of Akademistatistik's experts on medical statistics.
If you then need additional statistical advice, you can receive four hours of consultation that is paid for by Medisam. After that, you pay the subsidized price of SEK 550 per hour.
"It is good to include statisticians from the very start when designing studies, so that we can provide advice on random sample calculations and the design of the experiment. We most often participate both when studies are getting started and when they are being concluded," says Catrin Wessman.
While it is important to plan well in advance when booking a consultation time, you can only book within 60 days prior to your meeting.
Akademistatistik can assist with such aspects as experimental design, power calculations, statistical analysis plans (SAP), conducting statistical analysis, modelling data, and reviewing statistical analysis. The consultants can also assist in how the results are presented in the article and assessment of co-authoring in articles.
Available times on Thursdays and some Tuesdays
You can book times with Akademistatistik up to 60 days in advance. Akademistatistik has available times for reservations on Thursdays and some Tuesdays between 8:30 and 12:30.
TEXT: ELIN LINDSTRÖM