INFRASTRUCTURE. Three of Core Facilities' centers have changed premises. Proteomics and MPE have relocated to the new pavilions behind Lundberg Lab, while CCI has moved to remodeled premises on floor 1000 of Medicinarlängan. The moves were needed as the old premises became too crowded and were not adapted to the specific needs and equipment of each center.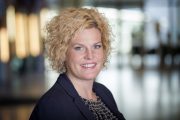 "Our staff has increased in size, and it was pretty crowded, warm and loud in the old premises. The new premises are well-planned and adapted to both our operations and equipment, although we still have the same square meters as we had before," says Carina Sihlbom, the unit manager at Proteomics Core Facility.
Proteomics has hi-tech analysis instruments requiring the right facilities and the right expertise to be operated properly. For example, ventilation and temperature are important factors. And for the staff, good sound insulation is also important to dampen the noise from the vacuum pumps.
"The ventilation still needs to be fine-tuned and other details have to be put in place, but on the whole we are happy to be able to work in and welcome researchers, users and visitors to better-suited premises," says Carina.
For the staff at Mammalian Protein Expression (MPE), one of the concerns before the move was whether they would be able to grow the cells needed to produce proteins requested by researchers.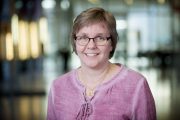 "Cell culture can be a delicate process, and it is also a central part of what we do. We've now seen that the new lab environment works fine for cell cultures, and we are very satisfied," says Malin Bäckström, the unit manager at MPE.
The unit managers have been involved from the start of the project and have formulated room descriptions, examined the needs of their operations and had contact with architects and project managers from the University. The premises are rented from Akademiska hus.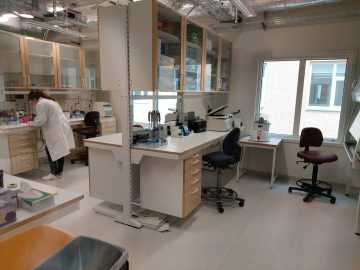 "Yes, they are very nice. They turned out the way we imagined they would be. Some planned spaces were not possible because the building is constructed using modules. But we have been kept well informed during the process about what was possible and what wasn't," says Carina Sihlbom.
Malin Bäckström also emphasizes that the work environment is much better in the new premises.
"We had problems with the work environment in previous premises, especially in the last year when the blasting started. Now we have offices and workspaces that are adapted to the needs of our operations and equipment, and it is nice to have moved away from the construction site."
TEXT AND INTERIOR PHOTOS: CHARBEL SADER