COLUMN. Eric Hanse, vice dean for infrastructure and premises, updates us on the current status of work on Sahlgrenska Academy's future premises needs.
Medicinarelängan, usually a very vibrant and lively setting, has hardly been recognizable during the latter part of the semester. Many students study at a distance, and many of us employees work from home. When the semester started, we had no idea how our ability to pivot would be put to the test. As we deal with this new situation, we are learning along the way. We have honed our skills at using digital tools. This has also provided us with valuable insights for the planning of our future premises, especially teaching premises.
In ongoing work that we have previously talked about here in Akademiliv, a consulting firm at Sahlgrenska Academy is helping us prepare a premises supply plan for developing our premises. The work began with interviews of the heads of institutes and an inventory in the form of a questionnaire for heads of research, which will be completed in September. Teaching premises have been deliberately omitted in this phase, but we need to revisit this later. We also had intended to conduct a capacity study of our premises, but that is not relevant now, of course.
The former hill now looks more like a pit
During the spring we had an intensive final spurt in preparing alternative premises for parts of Core Facilities and the Institute of Biomedicine, operations that have been disrupted during the past year by site preparation in preparation for construction of Natrium. Relocation has now been completed, something that I and many others are happy about.
The Natrium building site is starting to take on a new character. The former hill now looks more like a pit, and the first construction crane has been assembled. A new building site office for the construction project has been erected on the other side of the street next to the building for Occupational and Environmental Medicine. Pouring of concrete for the building foundation begins in June. Blasting will continue through October.
Several parallel activities are under way in the campus development project. We are creating better study places, with some of the measures already being implemented. When students return, they will find some new and fresh settings to work in, something they have long wanted. As a somewhat more long-term project, we are investigating the feasibility of building a multiroom, a large, multi-functional space. With such a facility, a lecture can take place in a traditional way, but with flexible furnishings for group projects without students needing to change rooms. The multiroom could be one of the faculty's largest, a welcome addition for courses and study programs that have large groups. The project also serves as a good example of local development going hand in hand with the development of new teaching and learning.
The multiroom could be one of the faculty's largest
In the Sahlgrenska Life project, program work has been completed, and we are now in standby mode before possible system stage work begins. In the meantime, the former vice-chancellor of Karolinska Institutet, Harriet Wallberg, is conducting a study on life science in western Sweden commissioned by our vice-chancellor.
For Experimental Biomedicine, the preliminary study is ongoing and is focused on finding repurposing potential within the existing building and with the least possible disruption to operations.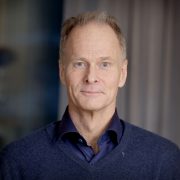 Two more preliminary studies are about to start. One involves the Lundberg Laboratory Building 1, which currently houses parts of the Faculty of Science's Department of Chemistry and Molecular Biology. Another concerns Zoofysiologen and Medicinaregatan 16, where the School of Public Health and Community Medicine wants to consolidate its activities into a "Sahlgrenska School of Public Health." In both cases, space will be freed up with the completion of Natrium in 2023. Starting preliminary studies three years in advance might seem early, but in our work on premises development, we have learned that these processes take time, so advance planning is a factor for success.
We have learned that these processes take time
In addition, the decisions we make on premises issues need to be well-grounded. All construction – both new construction and reconstruction – is expensive, so we need to act responsibly. It is completely natural to feel hesitant about making major investments, but letting the years go by without developing the premises just pushes the responsibility and costs to the next generation. With active premises development, we also have better opportunities to implement new work methods and continue to be an attractive university for students and researchers.
Eric Hanse
Vice Dean for Infrastructure and Premises
How to stay updated on construction projects on Medicinareberget:
Akademiliv publishes information related to ongoing construction projects every other week. Construction work on Medicinareberget page on the Staff Portal with information, photos & videos. You will also find frequently asked questions and answers here.
Questions about construction can be emailed to medicinareberget@gu.se. The Communication Unit ensures that right party answers the questions.
Questions related to operational planning and how the consequences of construction will be handled should be addressed to managers.