YOUNG RESEARCHERS. After six years in the United States, Linda Johansson is back at Medicinareberget in  Gothenburg. With advanced microscopy methods, she will study the interaction between two receptors for melatonin in the brain. Eventually, the research can lead to better treatments of type 2 diabetes and other ailments.
Linda Johansson is one of the young researchers recently named as a research leader of the future by the Swedish Foundation for Strategic Research (SSF), a recognition that provides her with SEK 12 million over five years. The Swedish Research Council and the Swedish Society for Medical Research (SSMF) have also awarded her grants, and she will soon be recruiting new members to her recently established research team at Medicinareberget.
She returned to Gothenburg at Christmas, after six years as a postdoc in the United States.
"I received a really warm welcome back at the institute and immediately received a spot in a lab so that I could get started. I have extensive training from the United States, and I can do a lot on my own, from cloning DNA and cultivating cells to preparing proteins and performing different types of optimizations," explains Linda Johansson.
Back to where it began
As a medical structural biologist, her group and she have a niche to fill here at the Institute of Biomedicine. The institute has a fantastic breadth, and she is looking forward to the collaborations that can form.
Now she and several other biomedical teams are moving from their current locations in the Biomedical Building to the other side of Medicinarlängan, where newly renovated facilities in Lundberg Laboratory await them. That was also the building where Linda Johansson began her doctoral studies:
"I am returning to the place where I began my academic journey," she says with a laugh. "It's great to have a renovated building, but it has been a bit of a challenge to plan all the purchases without knowing exactly how the facilities were planned."
Best doctoral thesis of the year
As a doctoral student, she developed techniques for generating nano-sized crystals for an imaging technique called X-ray free-electron laser (XFEL), with which her supervisor Richard Neutze was a pioneer. After she defended her thesis, which included determination of the 3D structure for a particular protein in bacterial cell membranes, she received the award for the best doctoral thesis at the Faculty of Science in 2013.
Since then, she has worked in the United States as a postdoc in a group that initially was based at the Scripps Research Institute, and then moved to the University of Southern California. During her time as a postdoc, she moved from bacterial to human biochemistry and began working with G-protein-coupled receptors in humans.
From bacteria to humans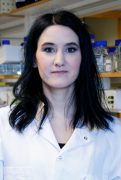 "I really wanted to apply my work to something that can lead to new treatment methods and new drugs. It is also fun to be able to apply the method I helped develop to new problems."
She chose the receptor group that is most common in humans, G-protein-coupled receptors. The discovery of these receptors resulted in the 2012 Nobel Prize in Chemistry for Lefkowitz and Koblika.
"It is an important receptor group, which is illustrated by the fact that about a third of all drugs act on these types of receptors. There has been a lot of research on their structure and function. Even so, it is very difficult to predict what nearby receptors look like and how they work. For example, the same drug can bind to multiple different receptors but in different ways, which in turn causes different effects. Something that is critical when developing drugs."
Work in Nature
Her stay as a postdoc in the United States can only be described as successful. Two major articles have now been published in Nature, where she shares co-first authorship. These articles describe how two G-protein-coupled receptors interact with nearby molecules on a molecular level, that is, the receptors' interactions with the ligands.
The team she is now establishing at Medicinareberget will focus on how the two melatonin receptors, known as MT1 and MT2, form a complex (known as a dimer). She will study both the structure and function of this complex, which has different characteristics than the two receptors individually.
A moving target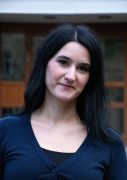 "It is a huge challenge to determine their structure using XFEL, since they are moving and changing shape. They are very flexible and part of their function includes shifting between active and inactive positions. We have to stabilize the proteins in one of these two positions, and this is difficult without destroying their function." Instead, she will use an advanced cryoelectron microscope at SciLifeLab in Stockholm to capture multiple positions of the proteins.
By expanding our understanding of exactly how the receptors work, there is excellent potential for developing drugs that are more selective in binding with the most relevant receptors. This, in turn, will avoid unnecessary side effects from sleep inducing drugs. The research can also lead to new targets for treating type 2 diabetes.
TEXT AND PHOTO: ELIN LINDSTRÖM