RESEARCH CONDITIONS. Core Facilities is staying busy with research support requests from users. For example, EBM continues to be available so researchers can conduct their work. Several of the technical platforms offer their support entirely or in part online, while others have established routines for how to use equipment onsite to reduce the risk of virus transmission.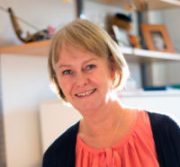 "We are now also receiving enquiries from researchers who want help with new projects directly related to COVID-19 and the novel coronavirus," explains Carina Mallard, head of Core Facilities at Sahlgrenska Academy.
Core Facilities has expertise within protein analysis and protein production that can be used for research on the virus. The biobank is involved in improving the quality of COVID-19 patient tests. CCI offers quick access to both electron microscopes and light microscopes so that researchers working with COVID-19 studies can quickly receive help.
"Our goal is to be able to keep Core Facilities open and continue offering our expertise to researchers as much as possible, even under the current situation with COVID-19."
Reduce the risk of infection
At the same time, it is important that everyone follows the university's general recommendations for telecommuting. Carina points out that all users and staff are to stay updated on current routines for reducing the risk of infection when conducting work that requires being at university facilities.
"We have routines so that everyone can feel safe about being at their workplace. Stay updated by checking our website, and researchers should not hesitate to contact unit managers if they have any questions."
New locations in April
Some units will be closed for a period in April for another reason: they are moving to new locations. Information about this is available on the Staff Portal and on the website for Core Facilities.
TEXT: CHARBEL SADER