MEDICINAREBERGET. Natrium, the new building for the Faculty of Science at Medicinareberget, is expected to be ready for occupancy in 2023. The inspiration for the project is the organizational vision formulated several years ago, in which construction of the building was identified as a significant enabler. Now you can watch the video from the groundbreaking.
With new premises, the Faculty of Science hopes to entice more students and researchers to choose the University of Gothenburg. The hope is also to increase collaborations among the medical and natural sciences programmes and research.
"The location of the building is not a coincidence," says Göran Hilmersson, dean of the Faculty of Science. "We look forward to working more closely with Sahlgrenska Academy and its outstanding research. Medicinareberget already has some Faculty of Science departments – zoology, chemistry and molecular biology – and when we begin using Natrium, we will bring together the majority of the faculty under one roof. That will be good for all of us."
What then does Hilmersson see as the biggest challenges?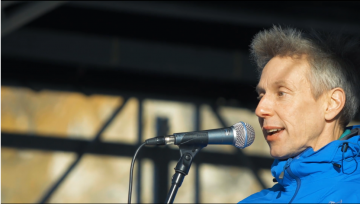 "We are doing something that we have not done before, and that is a challenge in itself. We need to look ahead and take into account the continued rapid development of education and research. Over a period of time, premises costs will be a major challenge, of course, but we are committed to attracting more students and more research. This cannot be achieved without investment."
Listen to Göran Hilmersson's talk
In his remarks during the official groundbreaking ceremony at the building site for Natrium on February 6, Göran Hilmersson talks about how he sees the future. His talk begins about 9:10 minutes into the video (only in Swedish). Link: https://play.gu.se/media/Startceremoni+Natrium/0_61ti1vj9
The video also features Åsa Henninge, market area director for Akademiska Hus; Eva Wiberg, vice-chancellor of the University of Gothenburg; and Hayar Gohary, project manager for Akademiska Hus.
TEXT: HELEN EASTERLING
PHOTO: STILLS FROM THE VIDEO BY MEDIETEKNIK