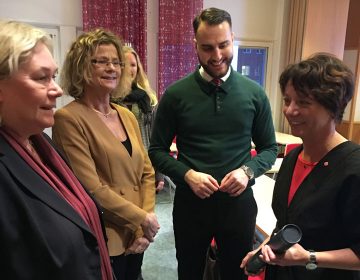 COOPERATION. How often should ALF evaluations be carried out? That was one of the issues that arose when Matilda Ernkrans, the Minister of Higher Education and Research, visited Sahlgrenska Academy. Our dean Agneta Holmäng also mentioned the importance of the large work effort required tom be included in the assessment.
Another important issue that was raised was the need for health data for research, something that the Minister told us that the Ministry of Social Affairs and the Ministry of Education are looking at together.
The visit to Sahlgrenska Academy was part of a visit to the University of Gothenburg and the Minister came to the Wallenberg Laboratory, together with the Vice-Chancellor Eva Wiberg and GUS (Gothenburg United Student Union) Chairman Raymond Samo.
Agneta Holmäng held a presentation about our faculty, research and education and Vice Dean Henrik Hagberg about translational research, based on his research on protection of the brain after severe oxygen deficiency in newborn children – research that has resulted in changed routines around the world. Not many people have such a great opportunity to make a difference with their work, the minister noted.
Jan Borén, Head of the Institute of Medicine introduced his institute and the Wallenberg Laboratory, before the researcher Araz Rawshani, who recently received an establishment grant from the Swedish Research Council and received the Children's Diabetes Foundation's award for young childhood diabetes researchers, took over to talk about research on the connection between living habits and the risk of illness.
After that Matilda Ernkrans got a tour of the Wallenberg Laboratory, guided by Malin Levin, Head of the  Department of Molecular and Clinical Medicine. The Minister also got to see an ultrasound examination of the heart to assess the heart's function demonstrated by Associate Professor Anders Gummesson, and researcher Josefin Kjelldahl.
The visit ended with the Vice-Chancellor handing over an art print made by a student at the Valand Academy on the appropriate theme of collaboration.
Read more about the visit to the University of Gothenburg: https://medarbetarportalen.gu.se/aktuellt/nyheter-detalj//spackat-program-nar-matilda-ernkrans-besokte-gu.cid1655169
TEXT AND PHOTO: ANNA VON PORAT