NEW STUDY. For the first time ever, researchers at Sahlgrenska Academy have successfully used a genetic transport method that exists naturally in the body to deliver genetic material into cells and get them to produce a desired protein. This discovery could mean a new principal for treatment of diseases where genetic defects impact protein synthesis in cells.
In the study, which was recently published in the journal Nature Communications, researchers show how cells in several organs in mice began to produce a protein normally found in humans, in this case, a human EPO protein. The researchers achieved this by sending messenger RNA molecules, called mRNA, into the cell. The mRNA molecules were packaged in exosomes, a kind of nano-sized bubble secreted naturally by almost every cell in the body and they are present in most body fluids.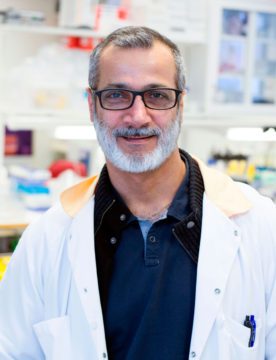 "For every gene, there is an mRNA, and by sending mRNA to cells via exosomes, in principle we could get cells / tissues to produce any protein at we want," says Hadi Valadi, associate professor of molecular medicine at the Department of Rheumatology and Inflammation Research.
Ten years ago, Hadi Valadi et. al. demonstrated for the first time that exosomes from human naturally transport genetic material between cells.
Potential gene therapy for many diseases
One of the most important issues for this study to solve was to find a way to insert specific mRNA molecules into the exosomes.
"We discovered a cellular mechanism in which some mRNA molecules from a special structure in the cells called endosomes can end up in secreted exosomes. We tested whether we could utilize this mechanism to insert mRNA into exosomes, which worked well."
Through this form of gene therapy, it is possible to develop targeted treatments for diseases that affect the production of proteins in different organs in the body which would otherwise be difficult to achieve with medication, for example the kidneys, spleen and heart. The genetic molecules (mRNA) sent into the cells in this way do not affect the patient's DNA (it is not a permanent treatment), but with stable mRNA molecules, the effect could probably persist for at least several months, believes Hadi Valadi, who does however point out that several years of research remain before the principle can result in new treatments.
"We are now moving forward with more animal experimental research hopefully to be able to carry out studies with patients at a later phase. Many different diseases could potentially be treated with this kind of gene therapy, including Huntington's disease, hemophilia, cystic fibrosis and various kinds of cancer and cardiovascular diseases."
The study was led by researchers at the Institute of Medicine at Sahlgrenska Academy in collaboration with AstraZeneca in Gothenburg, led there by Lennart Lindfors, principal scientist and adjunct professor at the Department of Chemistry and Molecular Biology at the University of Gothenburg. The research was conducted with support from SSF, Vinnova, the Swedish Research Council and AstraZeneca.
Publication: Nature Communications (https://www.nature.com/articles/s41467-019-12275-6)
Title: Linkage between endosomal escape of LNP-mRNA and loading into EVs for transport to other cells
TEXT ELIN LINDSTRÖM