COLLABORATION. Rich in Years (Årsrika), the book and traveling exhibition, is an initiative highlighting the elderly. When the exhibition comes to the Gothenburg City Library, several researchers from AgeCap, the Center for Aging and Health, will participate in various discussions.
Sweden's population is getting older, and research shows that the brain continues to develop if it is healthy. Many elderly people live a good life and have accumulated experiences and wisdom rarely used in our society.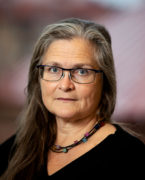 "We know that the media seldom portray the rich and varied life of older people. The invisibility of older people in the media runs the risk of contributing to ageism. By collaborating with the Rich in Years exhibition, AgeCap is helping to both highlight the elderly and reach out with research on aging and health," says Maria Edström, media researcher in the Department of Journalism, Media and Communication, a member of AgeCap and initiator of the collaborative project.
The Rich in Years traveling exhibition is produced by Annica Carlsson Bergdahl, with images by Elisabeth Ohlson Wallin. In the exhibition we meet people rich in years with varied backgrounds and experiences who talk about zest for life, sorrow, love, pleasure and death. Those between the ages of 78 and 95 who were photographed and interviewed include Arvid Carlsson, Nobel Laureate and professor emeritus at the University of Gothenburg, who was 93 at the time.
Exhibition and conference
The exhibition will be on display at the Gothenburg City Library April 25–May 26, 2019, and in conjunction with the exhibition, several AgeCap researchers will participate in various discussions. Within the scope of this collaboration, AgeCap arranged a political hearing at the School of Business, Economics and Law during the year and carried out two discussions at the Gothenburg City Library: "The Art of Aging" and "70 is the New 20". You can read more about AgeCap's activities in conjunction with the exhibition here: https://agecap.gu.se/nar-ut/aktiviteter/arsrika. Sensus and Senior Gothenburg also participated in the collaboration, and in the context of Age-Friendly Gothenburg, several AgeCap researchers are taking part in a series of lectures in the various neighborhoods during the spring.
The Rich in Years exhibition in Gothenburg coincides with the 2019 European Region Congress of the International Association of Gerontology and Geriatrics May 23–25 at the Swedish Exhibition & Congress Center. The exhibition catalog has been reprinted with an annex paid for by Carin Mannheimer's memorial fund about the research at AgeCap. It presents (in Swedish) an excellent overview of the teams operating within AgeCap: https://agecap.gu.se/digitalAssets/1712/1712490_a–rsrika_appendix.pdf
TEXT: ELIN LINDSTRÖM CLAESSEN / RAGNHILD LARSSON