RESEARCH INFRASTRUCTURE. For genomics and proteomics, there are databases that enable researchers worldwide to share data, and now carbohydrate glycomic- research is following suit. Researchers at Sahlgrenska Academy have been instrumental in developing an open access database that is expected to be important in developing precision diagnostics. The database is presented in an article in Nature Communications.
In addition to the research team at Sahlgrenska Academy, which is headed by Dr Niclas Karlsson, researchers in other European countries, the United States and Japan have contributed to developing the database, known as UniCarb-DR (http://www.unicarb-dr.org/).
Molecular databases of this kind play a key role in enabling development of today's precision diagnostics in health care.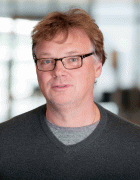 "Thanks to the database, all research teams engaged in glycomic research can now make their data available. This has been a formula for success in genomics and proteomics research, but this kind of database has been lacking in the glyco-community so far," says Karlsson.
Our own research in cancer and osteoarthritis
Each of us host up to five kilos of carbohydrates in our body, primarily in the form of glycoproteins. This is the type of proteins that predominate in the body's tissues and fluids. These proteins are for instance important building blocks in cartilage and in all protective mucus layers.
It has been estimated that the carbohydrates attached to glycoproteins consist of millions of different components and have been found to change in connection with most diseases, including major diseases such as cancer, HIV, Alzheimer's and arthritis and also minor illnesses such as colds and flu.
"To distinguish the different glyco-patterns associated with diseases, the glycomic research needs to come together and collect glycomic data from patients," Dr Karlsson says. "Then this needs to be made accessible to the rest of the research community so that we can identify the glycomic patterns for various diseases."
The development of the UniCarb-DB database and UniCarb-DR repository is described in an article recently published in Nature Communications: Rojas-Macias MA, et al. (2019) Towards a standardized bioinformatics Infrastructure for N- and O-glycomics. Nat Commun 10(1):3275. https://www.nature.com/articles/s41467-019-11131-x
TEXT: ELIN LINDSTRÖM CLAESSEN