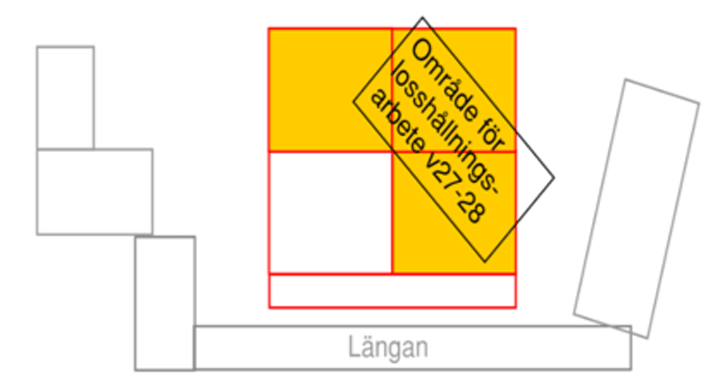 Below is information related to the construction project Naturvetenskap Life. On Thursday, July 11, the reserve time at 15:00 will also be used to burst a few large blocks in order to be able to  unload them – thus two blasting takes place this Thursday. Week 29–31 (between July 15 – August 4) there will be no blasting at all.
Construction information during summer
This information is also disseminated by the Institutes. This information covers the entire summer's work on the building site. The information from Akademiska Hus will now take a break for summer, and will return in August.
CONSTRUCTION INFORMATION WEEK 27
July 1 – 5

The work proceeds. The reinforcement near Nya Forsken will be finalised. A crane will put the wooden barriers in place upon which they will be attached to the rock by wires. The space between the wood and the rock will be filled to create stability for the blasting. The forging work at EBM will be completed by the end of the week as the staircase is dismantled.
Blasting as usual Tuesday and Thursday 12.30.
CONSTRUCTION INFORMATION WEEK 28
July 8 – 12
Last week of blasting before summer closing.
In addition to the regular blasts, Tuesday and Thursday at 12.30, some larger boulders will be divided in smaller pieces at 15.00 on Thursday to enable outloading.
In week 28 asphalting will occur by the gates and also some damages that occurred along Medicinaregatan in January during uncovery of the slope will be fixed.

CONSTRUCTION INFORMATION WEEK 29
July 15 – 19
In this week the stone wall along the road will be reinforced. The loudest part of this activity will be drilling and loading on trailers, however with half the trailer capacity compared to previous weeks.
In some selected places along Medicinarelängan, digging will be carried out to investigate and measure the hill for the continuing planning of the blasting closer to the facade of Medicinarelängan that will take place in 2020.
This digging will be done by a mini-excavator and partly by hand.
Please note that no blasting will occur in weeks 29-31.
CONSTRUCTION INFORMATION WEEKS 30 – 31
July 22 – August 4

The construction site takes a holiday break.
BYGGINFORMATION VECKA 32
August 5 – 9

The crew will be back and continue the blasting according to the regular schedule on Tuesday and Thursday 12.30. Loading will be intensified with five trailers in operation.

Blasting during the period week 27-28 will take place on level 2, in accordance to this illustration.
During the blasting events, the affected areas will be blocked off by guards and the warning signal will sound as shown below. Affected areas will also be indicated by information and contact details.